Travel Sized Skincare Set for Sensitive Skin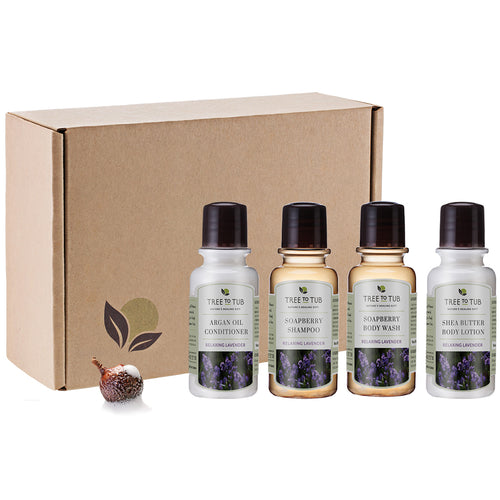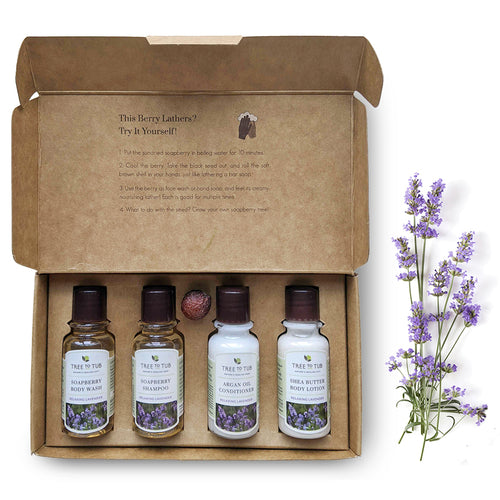 30-DAY SATISFACTION GUARANTEE
Your skin is picky. We know, and we want you to feel safe with us. If your skin doesn't like it, just ask us for free exchanges or a full refund.
Why you'll love it
What it is
Clean Ingredients
Sustainable Packaging
I recommend this 100%!
Hello, everyone! My name is Yolimar and today I wanted to do a review on a company called Tree to Tub. They make different products out of soapberries, this actually is a berry that grows on a tree. This one specifically comes from the island of Taiwan. Beautiful island, I actually went there in 2019, and they make products out of their berries! So I was very curious to find out a little bit more about them. Um, I suffer from skin allergies. So having itchy skin and is delicately abnormal in my life. Because of the pandemic, those skin reactions have become more frequent. It could be stress-related, but actually don't dye my hair anymore. And I'm embracing my great hair. I don't mind it, but I do react to different shampoos and, you know, chemicals. So I decided to embrace the journey of grey hair and also be a little bit greener in my life and trying different parts that are vegan. And they are made from, you know, natural origins. So that's how I find out about the lotions and about different products. So far, haven't had any reactions, I and I like I said, I had the lotion a little bit longer and I recently tried the shampoo, which they also add essential oils. This one. The conditioner has Argan oil, and they also add Lavender, so, so far I haven't had any reaction. So I would say it is recommended a 100% and I hope you enjoy them as much as I did. I wanted to take these seeds and do a little test on my own. So what I decided to do, I wanted to put them in warm water and see what happens. As you can see, my skin is very dry, and this is normal for me, having those flakey are feeling, see how the water is going to change and it becomes foamy. I wanted to take it even a step further. I actually read, and saw on the Internet that you can actually boil the seeds. And that's how you gonna release the most of it. After 10 minutes, the water it becomes more foamier. And it turned yellow and it becomes a little softer. I saw another video. What they do actually put them in other water in the blender, and you couldn even get more foam and more cleaning that texture off soap. See what happens. Oh my God, yes, That's how you know, very impressive. That water actually looks like milk. The foam has no odors. And it's been, you know, you don't feel nothing on the skin. Nothing at all. But it does feel sticky. And that's another reason why I am recommended this product 100%
Bottles are Stiff
Overall I like Tree to Tub products, but this set was a waste of money for me. The bottles are so stiff that you cannot squeeze the product out. If you are showering it wastes a lot of water while you are trying to tip and shake the contents out. Tree to tub uses lots of packaging for their products which may not be great for the environment and these bottles are much heavier duty than they need to be.
Awesome sample set !
Great sample set and nice amount to try the product. And the cute little soapberry was a nice added touch and it really lathers and works like soap! I love it all!!!
Love this!
So glad I tried this set. I have sensitive skin, allergies and eczema and it has been perfect. Great smell, lotion absorbs quickly and no reactions.
Travel Sized Skincare Set for Sensitive Skin