Ginseng & Green Tea Anti-Aging Retinol Night Cream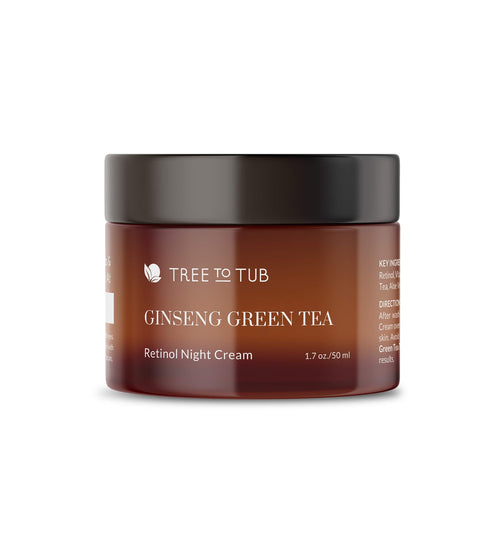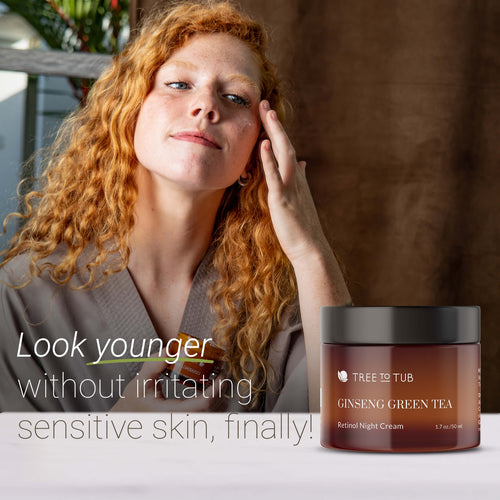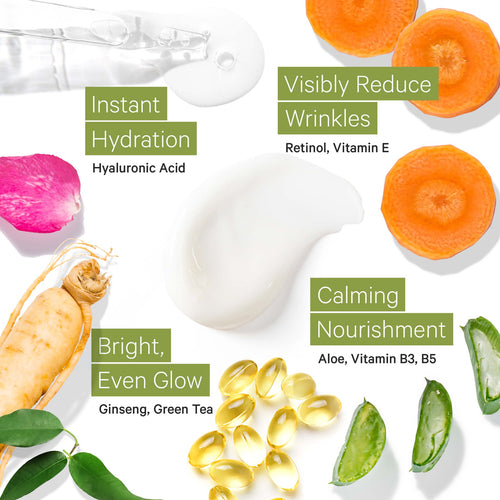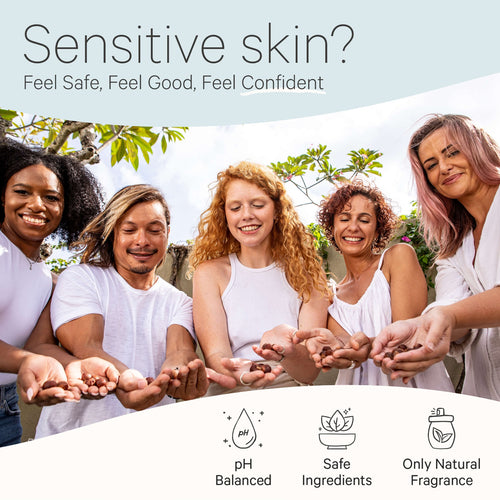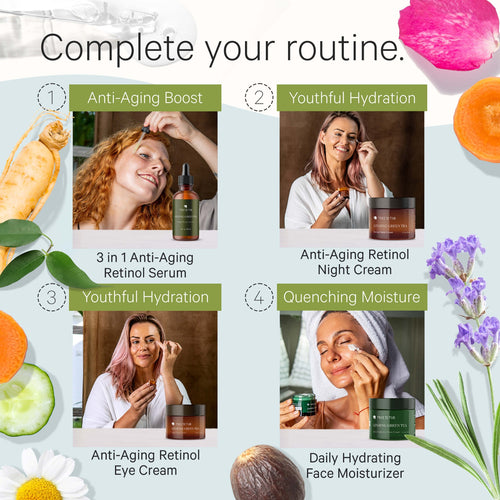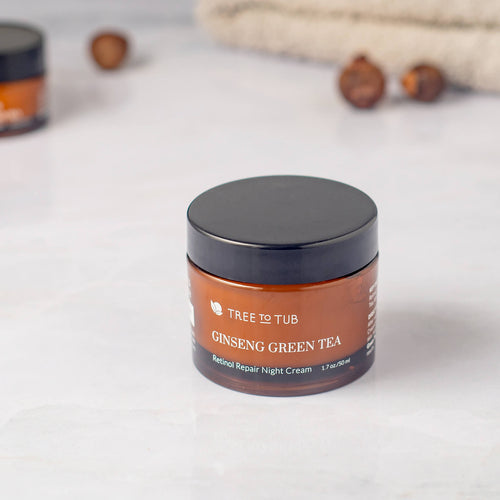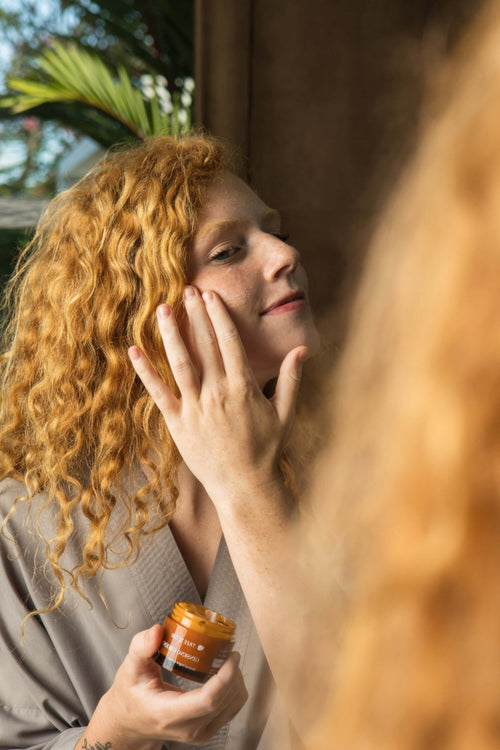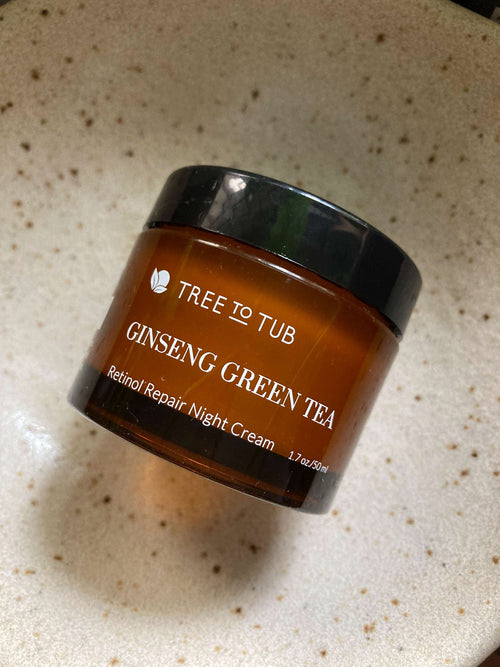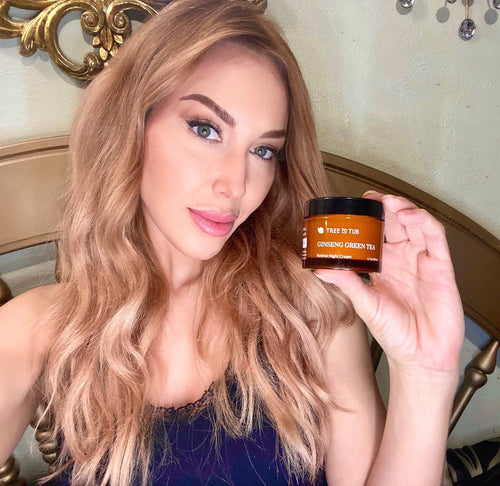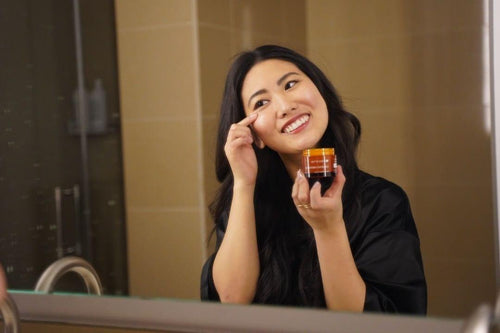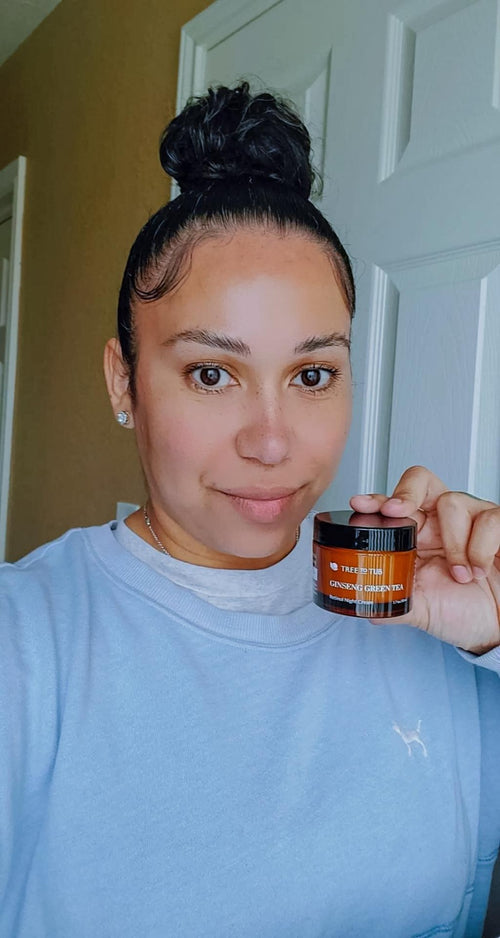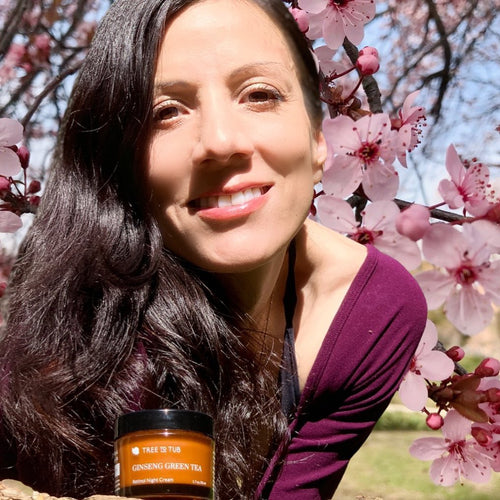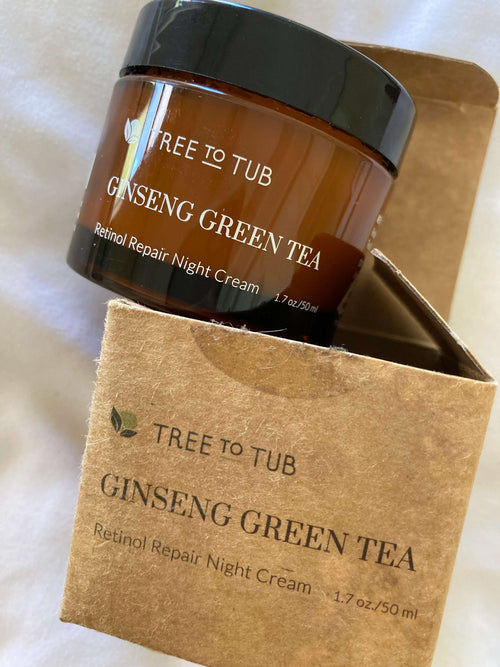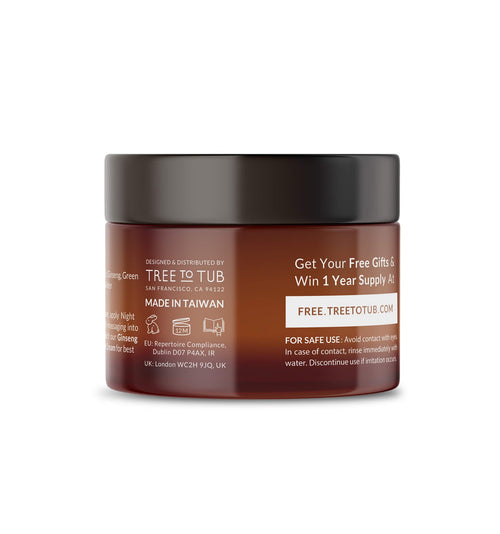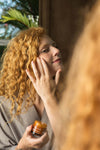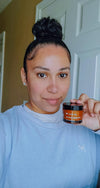 30-DAY SATISFACTION GUARANTEE
Your skin is picky. We know, and we want you to feel safe with us. If your skin doesn't like it, just ask us for free exchanges or a full refund.
Why you'll love it
What it is
Clean Ingredients
Sustainable Packaging
Goes on really smoothly, my skin likes it and it doesn't feel like I have a film on my skin either.
Hi guys, this is Kathy and I thought that I would go ahead and submit a video for this product that I recently purchased from tree to tub. I hadn't heard of the brand, but I saw it in a nature, natural organic shop that I like to use.
So I thought I would give it a try. I tried the tree to tub, ginseng green tea night cream. I'm about 60 years old and it is a retinol night cream and every time I've tried a retinol night cream, it's stung and it doesn't feel good. My face has actually gotten rashy, and red and splotchy after using it. So I thought I would give it a go, goes on really smoothly. It's almost like silk. There's no reaction on my skin, so my skin likes it and it doesn't feel like I have a film on my skin either.
So some of the creams that I've used in the past feel like you're kind of wearing a mask or it's really greasy. It doesn't have any smell at all, which I love because sometimes that kind of can sway you one way or another. So this is very neutral and I've only been using it for a week, so I'm going to enjoy it through the whole tub. It doesn't take very much product. And it's just, you know, I put it on my face and I give it a nice massage in and have a good night's sleep and hopefully it'll take a few years off of me. I'm wearing no makeup at that right now and so again, I've only been using a week and I'm looking forward to using it for the next month or so. Thank you.
makes my skin feel really soft and like nourished, but it doesn't feel clogging or oily
Okay, so I've been using the ginseng, green tea retinol night cream for a couple of months now. Um And I really like it because it makes my skin feel really soft and like nourished, but it doesn't feel clogging or oily, and I would definitely recommend this product.
makes my skin look bright and young again
Hi! I just wanted to jump on here and let you know about the Tree To Tub product that I started using. It is their night cream, and I just really like the fact that it goes on so smooth and just don't have any residue left. You just feel very smooth. And I just really like how I feel in the morning when I get up, and it just makes my skin look bright and young again. So I would really recommend this product to anybody that was wanting to try something that is all natural. Thanks for letting me share my experience and wish you the best of luck. You trying it. Thank you.
helps reduce the appearance of wrinkles. I'm loving this cream
Hi, I am going to do a little video on Tree To Tub. I use several products from Tree To Tub. The first product I use in the shower. Yes. If I can get it up here, is a sunkissed citrus. It is the body, smells great. It helps your dry skin and leaves my skin so soft and healthy.
Then when I'm in the shower, I also have this bottle. It's for the face. It's a soapberry for the face awakening peppermint. This face wash balances my skin. It is very gentle, oil balancing and it's an active cleaner. Um I used to have problematic skin and I'm not having any issues now and it does not dry my face, it's the peppermint. Let's see if I can get it in there.
After cleansing in the shower, then I have I get out and dry off and this is the double hyaluronic serum and it's very hydrating. And this is for wrinkles. I use this every other night and every night. And during the day, I use the triple vitamin C. So the triple vitamin C, I use underneath my makeup, and also at night. And the triple vitamin C has helped my brown spots. I had a brown spot right here and right here. And you can see how that they're very they're getting very, very diminished.
Then at night, I also use the ginseng moisturizer. It helps reduce the appearance of wrinkles. I'm loving this cream. It's not greasy on your skin. Very healthy and moisturizing. It has retinol in it and some retinols are very harsh, but this one is not harsh on your face at all. I use this every night.
Also, every night I use the eye cream with the retinol. Again, it does not hurt your eyes. It's non irritating and it's packed with lots of vitamins.
During the day, I use, like I said, the vitamin C. And I also use a ginseng green tea, um deep hydrating face, very moisturizing again, not drying. And I just put on order the hair. I'm going to try that to see if my hair will get thicker. I do take vitamins for my hair right now and I have been using other products on my hair. Hopefully I'll see even greater results. I have been using the Tree To Tub now for seven months. I'm 63 years old, I think. Um I don't look too bad for 63. I hope this helps you decide if you would like to use Tree To Tub. It's great products and it's all natural, which is great impact with vitamins. Thanks for listening
Tree To Tub's Biggest Fan!
Hi, My name is Meg and I think I'm officially Tree To Tub's Biggest fan. I use a lot of their products, and I wanted to tell you about some of their products that I absolutely love. I used these three products in the morning in the shower and the shampoo and the conditioner moisturizes and cleans my hair without any harsh chemicals. I love their body wash that also doubles as a shave cream. These three are all in awakening Peppermint. They're my favorite scent for the morning. I find it really wakes me up and energizes me for my day, it's a little bit tingly. So those are my my must haves in the morning in the shower. I love their moisturizer in their serum in the morning for hydrating my face at night. I prefer their lavender, that relaxing lavender scent for cleaning my face. And these there are skin care products. Really, they absorbed quickly. There are no harsh chemicals, but my absolute favorite product, my new favorite product right now Is their shea butter hand cream. I love how quickly absorbs on my hands, and it really makes them soft. It helps with the eczema. It absorbs quickly. Smells wonderful. So I love to smooth that on at night, gets me ready to go to bed. They're some of the products that I use in some of the reasons that I love them. I hope you consider using them as well. Thank you.